Fraud Protection
Security Center
Contact Us
Be aware of phone calls and fraudulent texts like these examples below that appear to be from Stockman Bank. These are scams!
If you receive a phone call asking for your Stockman Bank login credentials or personal financial information, HANG UP! We will never call you and ask you for this information.
If you receive one of these texts, DO NOT click the link. These texts are not sent by Stockman Bank.

If you accidentally gave out your personal information over the phone or clicked on one of these links, please call us immediately at 877-300-9369.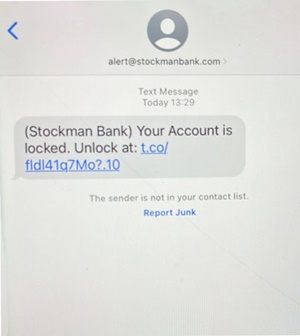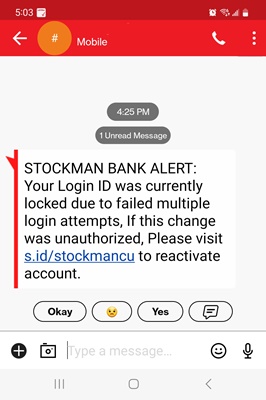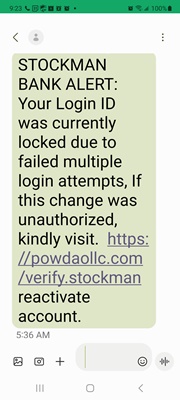 ---
IF YOU SUSPECT FRAUD:
Call your bank and credit card issuers immediately so they can close your accounts.
Contact the fraud unit of the three credit reporting agencies. Place a fraud alert on your credit report and consider placing a credit freeze so the criminal can't open new accounts. The fraud unit numbers are:

Equifax: (866) 349-5191
Experian: (888) 397-3742
TransUnion: (800) 680-7289

Report the fraud to the Federal Trade Commission at 1-877-IDTHEFT (1-877-438-4338)
File a police report.
Make sure to maintain a log of all the contacts you make with authorities regarding the matter. Write down names, titles and phone numbers in case you need to re-contact them or refer to them in future correspondence.
To learn more about fraud and identity theft prevention, visit the Federal Trade Commission's scam alerts page at https://www.consumer.ftc.gov/features/scam-alerts.
How You Can Protect Yourself
Vacation Rental Scams: How to Avoid Them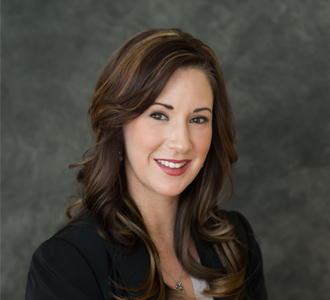 Written by Cassandra Erickson, Junior Middleware Analyst
Imagine you've just turned in for the evening. You might be reading a book, watching TV, or putting the kids to bed, when all of a sudden you hear a knock at the door. That's strange – you weren't expecting company this evening.
A moment later you're at the door face-to-face with a couple who claims to have rented your home for the weekend! You have no idea who they are or how they got your address. Imagine your surprise when the couple presents you with their reservation confirmation and online listing that shows pictures of your home.
You now need to inform this couple that all of you have obviously been scammed because you have not rented your home to them or anyone, nor is that your online listing.
Sadly, this has happened to some who have reserved a vacation home or apartment online, and it can happen to anyone! Several stories have circulated from both guests and hosts regarding fraudulent activity and scams regarding vacation rentals by owners.
However, that does not mean you have to avoid reserving a vacation home. You just need to understand the precautionary steps to protect yourself.
Important steps to identify whether a vacation rental listing is legitimate.
1. Don't book via email or pay the host directly
Be cautious with your communication to your hosts through email. You should avoid booking off site through email with the host for a vacation rental. Scammers will often try to get you to pay in advance through a third-party payment system and may even try to incentivize your advance payment by offering some kind of discount. If you have to communicate by email for directions or providing a copy of your identification, be cautious about any links that may be contained in an email.
2. Verify the host

Check the host's profile to see if they have been verified by the site as having uploaded identification, or if they have been given a "Super Host" badge for maintaining an overall high rating from previous guests.
3. Reverse image search the property's photos
Do an image search of the property's photos using Google. If images of the property start appearing from stock photo websites, there is a good chance the listing could be a scam. If images of the property appear on other listing sites, verify the host's profile information is the same. Another good indication of a scam is the property address. A property address is never disclosed until after the listing has been booked. If the listing displays an address, there may be foul play involved, so do some more research before booking.
4. Pay attention to site URLs
If you click a link or an advertisement online that takes you to a vacation rental by owner site, be sure to pay attention to the URL. Check to make sure the URL links don't misspell or misuse the site's URL to try and resemble the legitimate site.
5. Book your reservation with a credit card or travel money card
Avoid booking your reservation online with a debit or check card. If your debit card becomes compromised than you run the risk of having your bank account compromised. If you think your account may have been compromised, contact your bank or card issuer right away to report fraudulent activity. It's better to book your reservation with a credit card or travel money card. A credit card company may offer you additional protection in the event you are caught in the cross-hairs of a scam.
Remember, do your research before booking a vacation rental by owner. Verify the host and the listing. Never pay the host directly off site through a third-party, and never give out your personal information over email. And have a wonderful vacation!