Fraud Protection
Security Center
Contact Us
Be aware of phone calls and fraudulent texts like these examples below that appear to be from Stockman Bank. These are scams!
If you receive a phone call asking for your Stockman Bank login credentials or personal financial information, HANG UP! We will never call you and ask you for this information.
If you receive one of these texts, DO NOT click the link. These texts are not sent by Stockman Bank.

If you accidentally gave out your personal information over the phone or clicked on one of these links, please call us immediately at 877-300-9369.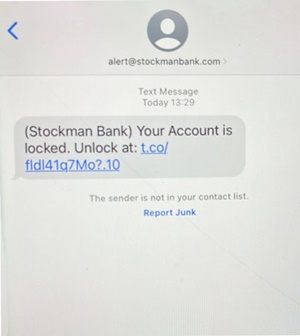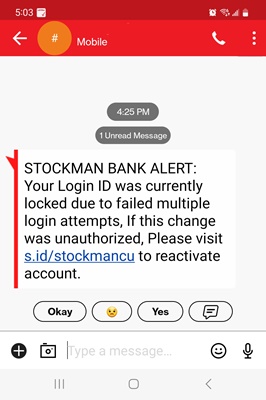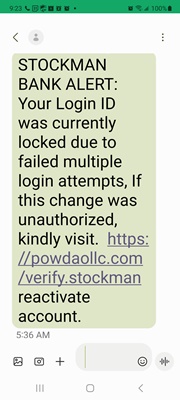 ---
IF YOU SUSPECT FRAUD:
Call your bank and credit card issuers immediately so they can close your accounts.
Contact the fraud unit of the three credit reporting agencies. Place a fraud alert on your credit report and consider placing a credit freeze so the criminal can't open new accounts. The fraud unit numbers are:

Equifax: (866) 349-5191
Experian: (888) 397-3742
TransUnion: (800) 680-7289

Report the fraud to the Federal Trade Commission at 1-877-IDTHEFT (1-877-438-4338)
File a police report.
Make sure to maintain a log of all the contacts you make with authorities regarding the matter. Write down names, titles and phone numbers in case you need to re-contact them or refer to them in future correspondence.
To learn more about fraud and identity theft prevention, visit the Federal Trade Commission's scam alerts page at https://www.consumer.ftc.gov/features/scam-alerts.
How You Can Protect Yourself
Cyber Liability-It's Not Just For Businesses
Cyber liability may be one of the newer products on the insurance market, but it's one that we at Stockman Insurance strongly encourage business owners not to overlook
The aftermath of a cyber attack can be detrimental to a business if you're not properly covered.
This type of policy protects your business against data losses caused by cyber-attacks, viruses, and other threats.
Cyber liability, in general, is the risk posed by conducting business over the Internet, over other networks or using electronic storage technology.
Insurance can be purchased and "risk-based" security strategies can be used to mitigate against both the first and third party risks caused by cyber liability.

Do you think your business is too small or couldn't possibly be exposed to a cyber liability exposure? Think again!
No matter how large or small your business is, if you're keeping ANY sort of personally identifiable information regarding your customers or employees, your business could be at risk.
According to the 2017 Cyber Claims Study done by NetDiligence, "companies with less than $50M in revenue were the most impacted, accounting for 47% of the claims".
The same 2017 NetDiligence study found that "the average total breach cost was $349,000". That size of loss could break most small businesses.
It's the goal of Stockman Insurance to make sure you have the proper coverage in place to avoid a massive setback of that size or worse…a business-ending loss.
Like all other lines of insurance coverage, there's not a one-size-fits-all solution.
Depending on who you're storing the information for (yourself, your clients or both) will help determine which type of policy is the best fit to protect you and your business.
Not all policies are equal, but Stockman Insurance agents are determined to find you the most effective and affordable cyber liability solution. Whether your business is big or small, cyber liability is your defense against a cyber attack!