Fraud Protection
Security Center
Contact Us
Be aware of phone calls and fraudulent texts like these examples below that appear to be from Stockman Bank. These are scams!
If you receive a phone call asking for your Stockman Bank login credentials or personal financial information, HANG UP! We will never call you and ask you for this information.
If you receive one of these texts, DO NOT click the link. These texts are not sent by Stockman Bank.

If you accidentally gave out your personal information over the phone or clicked on one of these links, please call us immediately at 877-300-9369.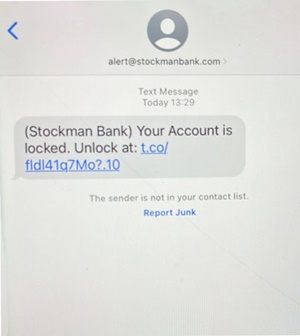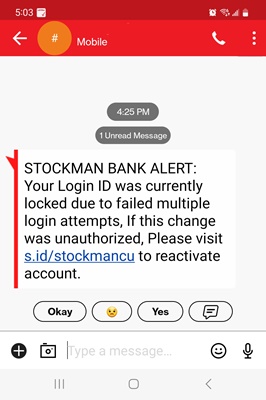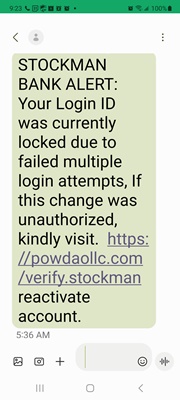 ---
IF YOU SUSPECT FRAUD:
Call your bank and credit card issuers immediately so they can close your accounts.
Contact the fraud unit of the three credit reporting agencies. Place a fraud alert on your credit report and consider placing a credit freeze so the criminal can't open new accounts. The fraud unit numbers are:

Equifax: (866) 349-5191
Experian: (888) 397-3742
TransUnion: (800) 680-7289

Report the fraud to the Federal Trade Commission at 1-877-IDTHEFT (1-877-438-4338)
File a police report.
Make sure to maintain a log of all the contacts you make with authorities regarding the matter. Write down names, titles and phone numbers in case you need to re-contact them or refer to them in future correspondence.
To learn more about fraud and identity theft prevention, visit the Federal Trade Commission's scam alerts page at https://www.consumer.ftc.gov/features/scam-alerts.
How You Can Protect Yourself
Post written by Paula Kurkowski, SVP/Director of Bank Operations
She didn't even remember entering a sweepstakes, but she'd somehow managed to win – and win big! The excited caller informed Margaret that she'd won a sweepstakes and she would be receiving numerous valuable prizes including a flat screen TV, a complete living room furniture set, a laptop, a cruise…and the list went on.
In fact, there were so many prizes that they would be sending a delivery truck right to her doorstep! They scheduled the delivery for the following Tuesday at 10:00 am and the caller told Margaret she would be receiving a call from the driver the morning of the delivery to confirm her address and directions to her house.
Margaret was very excited but a little bit skeptical too. She'd heard about prize scams and knew if they asked for her personal information, such as bank account numbers or her Social Security number, she wouldn't give it to them as it would be a sure sign of a scam.
At 7:30 am Tuesday morning, the driver called to let her know that he'd just passed Billings and was on the interstate driving east towards Miles City and was scheduled to arrive on time.
Ok, now this was starting to feel very real. They still hadn't asked for personal information, and there's no way a con artist from Nigeria would know how to get to Miles City, Montana!
Until now, Margaret had kept the news to herself because deep down she was still skeptical that it was real, but now that they were actually on their way to her house, it had to be real, right? Margaret asked a co-worker to meet her at her house to meet the delivery truck. After all, she would need help organizing all of the prizes.
At about 9:30 am, the driver called again to report a short delay in Forsyth. He was at the local tire store (Art's Tires & Service) getting a tire fixed. He would be there soon, but now he would really have to rush her delivery to keep from being late to the next one in Glendive.
At a couple of minutes before 10:00 am, Margaret's co-worker arrived at her house just in time to hear Margaret give a caller on the other end of her cell phone the last series of digits from a Green Dot card.
Margaret explained, "The driver was running late due to his flat tire, you see, and to speed up the process when he gets here, he asked me to give him the numbers off of the Green Dot cards over the phone so the delivery would be quicker and he could be back on the road sooner."
And that's how they did it.
The scammers did their homework and gave Margaret little details to make the story real and believable. How would they know about Art's Tires & Service if they weren't actually in Forsyth? A quick internet search and Google maps, available to anyone in the world, is all the caller needed.
And the scammers didn't ask Margaret for bank account information, her social security number, or any other type of personal information. Instead, she'd simply been asked to cover the small cost of the delivery fee which was "just a fraction of the value" of her prizes.
The easiest and safest way to pay the fee (for the scammer anyway) was to have Margaret purchase multiple Green Dot cards at Wal-Mart in the amount of $500 each. She paid cash for the pre-paid cards and once the numbers were given to the scammers over the phone, they could use the cards online anywhere – or at least anywhere Visa and MasterCard are accepted.
How can you prevent this from happening to you?
This is a true story, although Margaret is not the victim's real name, and this type of prize scam happens frequently. Educate yourself to prevent this from happening to you.
The Federal Trade Commission offers the following tips for preventing prize scams:
Scammers ask you to pay before you can claim your prize.
Legitimate sweepstakes don't make you pay a fee or buy something to enter or improve your chances of winning. Scammers might try to sound official and say it's for "taxes," "shipping and handling charges," or "processing fees." Don't pay to claim a prize, and never give your checking or credit card number for a sweepstakes promotion.
Scammers ask you to wire money to "insure" delivery of your prize.
Don't do it. Legitimate sweepstakes don't ask you to wire money. Once you wire money, you can't get it back. The same goes for sending a check or money order by overnight delivery or putting money on a prepaid debit card.
Scammers send you a check and ask you to send some of the money back.
But the check is fake, and you're responsible for repaying the bank.
Scammers use the names of well-known companies for prize scams.
Con artists often pretend to call from well-known companies to make themselves appear legitimate and gain your trust. If you don't remember entering, you probably didn't. If you think it may be legit, use a search engine to find the company's real phone number. Call to confirm that you entered a contest before responding to any claims that you won.
Suspicious prize offers can be reported to the FTC by visiting their website at https://www.consumer.ftc.gov.
Be skeptical if something sounds too good to be true, it probably is.