Fraud Protection
Security Center
Contact Us
Be aware of phone calls and fraudulent texts like these examples below that appear to be from Stockman Bank. These are scams!
If you receive a phone call asking for your Stockman Bank login credentials or personal financial information, HANG UP! We will never call you and ask you for this information.
If you receive one of these texts, DO NOT click the link. These texts are not sent by Stockman Bank.

If you accidentally gave out your personal information over the phone or clicked on one of these links, please call us immediately at 877-300-9369.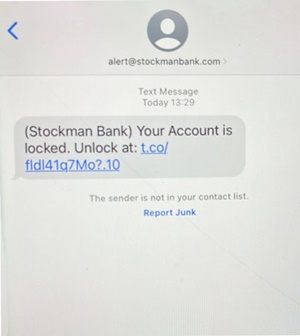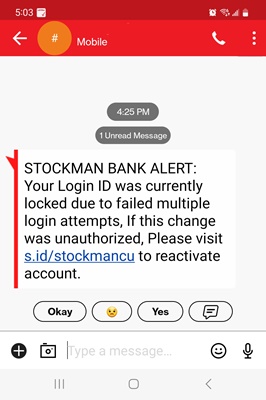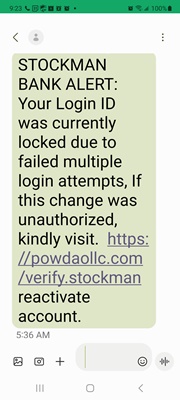 ---
IF YOU SUSPECT FRAUD:
Call your bank and credit card issuers immediately so they can close your accounts.
Contact the fraud unit of the three credit reporting agencies. Place a fraud alert on your credit report and consider placing a credit freeze so the criminal can't open new accounts. The fraud unit numbers are:

Equifax: (866) 349-5191
Experian: (888) 397-3742
TransUnion: (800) 680-7289

Report the fraud to the Federal Trade Commission at 1-877-IDTHEFT (1-877-438-4338)
File a police report.
Make sure to maintain a log of all the contacts you make with authorities regarding the matter. Write down names, titles and phone numbers in case you need to re-contact them or refer to them in future correspondence.
To learn more about fraud and identity theft prevention, visit the Federal Trade Commission's scam alerts page at https://www.consumer.ftc.gov/features/scam-alerts.
How You Can Protect Yourself
Fraud Alert: Weather Disasters Gusting in Scams
There is nothing quite as heartbreaking as a weather disaster that leaves thousands of people homeless and stranded without anything to their name.
It's a time when many Americans step up and feel the need and desire to help in any way possible.
Unfortunately there are criminals out there that prey upon the kindness of others. Here is what to look for when trying to decide how you can help in these weather disasters:
Watch out for charity scams: To insure you are giving to the right charities, check with the Better Business Bureau's (BBB) Wise Giving Alliance, Charity Navigator, Charity Watch, or GuideStar. These organizations provide lists of valid charities that are raising funds for legitimate causes. So you can rest easy knowing your donations are going to the correct places.
Beware of links to charities: There is no reason to click on links or attachments in emails about donating to a charity, unless you know who sent it. You could unwillingly install malware on your device.
Question social media posts: Do not assume charity messages posted on social media are legitimate. Do some research to see if the company is genuine.
Do a background check: Verify if the charity or fundraiser is registered in your state by contacting the National Association of State Charity Officials. If they are suppose to be registered and are not, it is wise to find another charity that is registered.
Go straight to the source: Look on the Federal Emergency Management Agency's (FEMA) volunteer and donation page. They usually outline the best ways to help out people recently affected by disasters.
Be specific: Designate what cause or disaster you want to donate to. This way you can ensure your donation is going to the proper place.
Donate directly: Try to donate directly rather than through a paid fundraiser. Many professional fundraisers get a percentage of the donations, and it can be up to 50% of your donation.
Overall, natural disasters are heartbreaking and can wreak havoc on our lives. So how can we get ready for these devastating incidents? The key is preparation. Despite what destructive force might occur where you live, here are a few key things to help you prepare for the worst:
Put your finances in order: While preparing for any weather emergency, having your finances in order is as important as a flashlight and extra batteries. Having extra money set aside for a rainy day or weather disaster will be very helpful.
Replace missing documents: If you are missing any important documents, now is the time to replace them. These documents come in handy when recovering after the weather damage has been done. Also try to keep these important documents in a lockable fire and water proof case to keep them safe when disaster strikes.
Check your insurance: Look over your insurance policies to see if they will pay for temporary shelter, replacement clothing, furniture, or other items that can be affected by a hurricane, fire, or other weather events.
Flood proof your home: If you live in an area known to flood or have storms that could cause a flood prepare for a future flood by buying flood insurance and writing a flood response plan.
Plan for your pets/livestock: A pet can be an important member of your family, and your livestock can be an important source of income for your family. Planning ahead on where to take your animals or how to get them out quickly and safely is an essential part of preparing for an emergency such as a fire, flood or various other disasters.
In the case that a catastrophe has already hit and you are going through the recovery process be wary of criminals that prey upon your misfortunes. Here are a few steps to start the recovery process and what to look out for.
Contact your insurance company. Find out what the steps are in assessing any damage that was done to your home, property or business.
The FTC and the Red Cross are good references for advice on how to cope with the damage that has been done.
Be extremely skeptical of anyone providing or promising immediate clean-up removal. Some demand payment up front and either do not show up, or quote you outrageous prices for a job that is not well done.
If you end up having to rent during this recovery time. Look out for rental listing scams. Scammers will often advertise fake rentals and trick people into sending deposits before they find out they have been scammed.
When in the recovery mode a lot of people will be asking for your personal information when helping you out. Make sure you know who you are talking to and that they need your personal information for the right reasons.

Scammers will sometimes pose as government officials claiming they are trying to give you government aid for a small fee. Government officials will never ask you for money in exchange for information or a check.

Make sure to call your creditors and ask for help. In the case that your home is uninhabitable, contact your lender to discuss options you have regarding your mortgage.
In a nutshell, no one can be completely prepared for the damage a critical weather event brings but we can do our best to be prepared and help each other out in these times of need.