Our Mortgage Process
Find a Lender
Make Your Loan Decision Confidently

We believe our clients deserve transparency about their loan options, and our total cost analysis gives you the information you want to have about your loan. The first step is to get pre-qualified by one of our home loan professionals. You will need:
Contact information
Social security number
Birth date
Employment information
Estimated income, assets, and liabilities
Pre-qualification can be accomplished online, over the phone, or in person – whichever is most convenient for you!
1. Get Prequalified
Evaluate if you're qualified to purchase a new home or refinance your existing home, determine what types of loan programs you may qualify for, or determine how much money you may be qualified to borrow.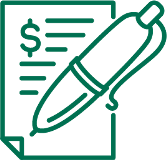 Apply Now
2. Seal the Deal
After you select a loan option and we lock-in a rate for your loan program, your application gets sent to our in-house mortgage processing team. Our processors, underwriters and closers work behind the scenes to verify information for your loan and ensure your home meets quality standards.
Your home loan professional will keep you up-to-date on the status of your loan approval. We work hard to ensure you understand every step of the loan process and what to expect at closing.
3. A Bright Future Ahead

We believe in continuing to provide service and value to our clients after closing. Your home loan professional is available to you when you need assistance or to review your mortgage. A mortgage review shows you how your loan is performing and can identify potential money saving opportunities for you, when the time is right.
Buying A Home
Mortgage Calculators
Use our free calculators to help you get an idea of just what you'll need in your home loan.
Need Help With The Down Payment?
You are not alone! We help clients overcome obstacles to become successful homeowners every day.
Down Payment Assistance Programs
We work hard to find affordable housing solutions for our home buyers. Our lenders partner with organizations across Montana to provide you with a variety of down payment assistance options. Here are just a few of our approved partners:
| | | |
| --- | --- | --- |
| Montana Housing | Human Resources Council | Neighborworks Montana |
| Neighborworks Great Falls | City of Billings | City of Bozeman |
Interested in learning more about the programs we have to offer? We encourage you to visit with one of our home loan professionals today!