Home Loans
Apply Now
Make Your Loan Decision Confidently
We believe our clients deserve transparency about their loan options, and our total cost analysis gives you the information you want to have about your loan. The first step is to get pre-qualified by one of our home loan professionals.
What type of loan is right for me?
Every borrower is unique. The right loan choice depends on many factors. We highly recommend talking with one of our Real Estate Loan Officers who can help guide you through the process. Here is some general information about several different loan program options.
Fixed Rate or Adjustable Rate
A fixed-rate loan provides a fixed rate throughout the life of the loan, meaning the rate will not change 10, 20, or 30 years from now. A fixed-rate loan may be the better choice if you want stable payments and plan to live in your home long-term.
With adjustable-rate mortgages (ARMs), the interest rate will fluctuate over time. ARMs can either go up or down, which will affect your monthly payment. An ARM may be a good option if you only plan to live in your home for a few years.
Conventional or Government-Sponsored
With a conventional loan, the lender assumes the risk for lending you money. As a result, conventional loans have more stringent credit requirements and higher down payment requirements.
Conforming loans are those that adhere to loan limits set by the Federal Housing Finance Agency (FHFA). As of 2022, the conforming loan limit is $647,200 for one-unit properties.

Jumbo loans

are those that exceed the conforming loan limits. Interest rates are usually higher on jumbo loans because they represent greater risk to the lender. There may also be stricter credit standards and underwriting requirements.
With a government-sponsored loan, such as FHA, VA, or USDA, the government backs the loan, or assumes the risk for lending you money. They typically have easier requirements to qualify for, and can have as little as no downpayment.
FHA loans are backed by the Federal Housing Administration (FHA). Because of reduced requirements to qualify, borrowers are required to pay a mortgage insurance premium (MIP) on top of their monthly payment.
VA loans are backed by the U.S. Department of Veterans Affairs, and require no down payment (100% financing) and no mortgage insurance. They are available to eligible veterans, active-duty members, reservists, National Guard members, and surviving spouses.
USDA loans are backed by the U.S. Department of Agriculture, and are available for homes in eligible rural areas. While USDA loans do not require a down payment, they do require mortgage insurance.
Find Out if You Qualify
Evaluate if you're qualified to purchase a new home or refinance your existing home, determine what types of loan programs you may qualify for, or determine how much money you may be qualified to borrow.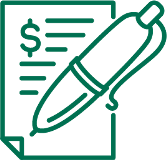 Get Prequalified
Featured Home Loan Resources
Buying and owning a home is a milestone event! We're here to help you with all of your home loan needs every step of the way.
Nine Ways to Prepare Your Home for Winter!
Autumn in Montana can be a mix of summer and winter, depending on the day! Now is the time to prepare your home before winter settles in for good.
Read Full Article
Want to Buy Your First House? Here's What You Need to Know
Most first-time homebuyers don't have a clue what they would even qualify to buy, and many have that "deer in the headlights" look when they walk in. The purpose of this post is to help you understand what to bring to your mortgage lender and what to expect when buying your first home.
Read Full Article
1. Get prequalified. Find out how much home you can afford.
2. Find a home. Work with your agent to find your dream home and make an offer.
3. Get a mortgage. Make a plan that meets both your current and future goals. Our home lending experts will help you!
4. Close. Become the legal owner of your new home!
5. Move in. One journey ends and another begins!
Typically, you will need to put down between 3% and 20% to qualify for a conventional loan, but there are also exceptions. You may be eligible for zero down payment options if you are a veteran, or USDA Rural Development Loan Programs

Why 20% is considered ideal
Putting down 20% or more comes with several benefits. The more money you put down, the lower your payment will be, but at 20% or more you avoid paying mortgage insurance. Additionally, you might receive reduced interest rates, and it may help you be a more competitive buyer and stand out to sellers, especially if there are multiple offers on the home.

Less than 20% down is okay too
If you have less than a 20% down payment, you still have options! Our Real Estate Loan Officers can help guide you through the decision making process, to help you achieve both your short term and long term financial goals.
Lenders look at a variety of factors when determining if you qualify for a loan.
The 4 C's of Qualifying for a Loan:
Character represents your credit history or financial integrity. Your credit score, how much credit you've used in the past, and whether you make your payments on time are examples of your financial integrity.
Capacity represents your ability to repay a loan. The amount of your income and assets are compared against your monthly debts to make sure you can afford a loan.
Collateral is the asset securing the loan — in other words, the value of the home itself. If you default on your payments, the home can be repossessed by the lender.
Capital is how much money you're able to invest in the collateral, represented by your down payment. The amount of capital you contribute shows that you have "skin in the game" and reduces the risk to the lender.
Before you start looking at houses, work with your loan officer to get pre-qualified, so you know how much home you can afford. This can help you narrow your home search to houses within your budget, give you an idea of how much you'll need for a down payment, and help you identify budgeting goals to work toward.
While getting pre-qualified can be a big advantage during your home search, it's not a guarantee for a loan. Getting approved for a mortgage happens later in the process.
Mortgage Insurance (MI), also referred to as private mortgage insurance (PMI), or mortgage insurance premium (MIP), protects the lender in the event that you fall behind on your mortgage payments. If you put down less than 20% when you buy your home, or if you take out an FHA loan, you'll have to pay MI. Some loan programs, like VA loans, don't require MI, no matter your down payment.
While MI adds to your monthly mortgage payment, it can be worth it by helping you purchase a home sooner. For example, let's say you only have 5% saved up for a down payment. Rather than waiting to save up for a full 20% down payment, which could take years, you could purchase a home now with your 5% down payment and pay MI as a tradeoff.
Once you have enough equity built up, you may be able to cancel your MI. Your Real Estate Loan Officer can help you make a plan that will accomplish both your short-term and long-term homeownership goals.
In addition to your down payment and monthly mortgage payment, there are several other costs that come with buying a home. These are called closing costs.
Closing costs often represent one of the most unexpected expenses for homebuyers. They typically account for 2% to 5% of the home's purchase price, so it's important to save for them ahead of time. Closing costs are due on closing day, or the day you sign your loan paperwork and the property title is transferred into your name. Everyone's closing costs vary slightly, but below are some examples of what might be included:
Appraisal Fee: A fee paid to the appraiser to estimate the fair market value of your home.
Attorney Fees: If your state requires an attorney to be present at closing, you'll be responsible for any applicable attorney fees.
Credit Report Fee: A fee paid to the lender that covers the cost of pulling your credit report. Your lender looks at your credit history to determine your creditworthiness, or how likely you are to repay your debt.
Discount Points: An optional, upfront fee that you can pay to lower your interest rate over the life of your loan. One point typically equals 1% of the loan amount.
Home Inspection Fee: A fee paid to the home inspector for assessing the home's condition and identifying any needed repairs.
Origination Fee: A fee charged by the lender for originating or creating the loan. Typically 1% of the loan amount.
Prepaid Expenses: A portion of your property taxes, homeowners insurance, and accrued mortgage interest will need to be paid up front at closing.
Recording Fees: Fees paid to your local government for recording the real estate purchase and making it a part of public record.
Title Service Fees: Fees paid to the title company covering the title search, title examination, title insurance, and in some states, the fee for facilitating your closing.
Aside from the actual real estate transaction, there are several other fees that come with buying a home. These will vary depending on your situation, but be sure you also save for:
Moving costs. From packing supplies to hiring a moving company, moving can hit you with a lot of unexpected expenses. Make sure you budget and save for these ahead of time.
Maintenance & repairs. Owning a home includes the added responsibility of upkeep. If an appliance breaks down or your roof starts to leak, you'll have to cover the costs to repair it.
Utility Bills: Moving from an apartment to a house? If you weren't paying for water and garbage before, be aware that you'll be responsible for these charges going forward, in addition to your normal utilities.
Homeowners' Association Fees: If you move into a condo, townhouse, or subdivision, you may have to pay a monthly HOA fee to cover amenities, which may include trash removal, lawn care, and access to a community clubhouse, pool, or gym, to name a few.
The checklist below will give you an example of the most commonly requested items, but each loan application is unique so your lender may request more, or less, documentation after reviewing your application.
Verifying your income
Income verification involves not only verifying what you currently receive, but also determining the likelihood that you will continue to receive that income in the future.
Paystubs from within the last 60 days
W2s from the last two years
Social Security Income? – collect a copy of your award letter and most recent bank statement showing the deposit going into your account
Pension, disability, or other automatic income deposits? Copy of award letter showing how long you will receive the income for, and the amount you will receive.
Rental Income? Locate up to most recent two years of tax returns
Verifying your assets
Which account are your closing costs or down payment funds coming from? Lenders are required to verify certain funds are readily available in your account and are also required to trace the source of certain large deposits.
Two most recent bank statements, make sure they are within the last 60 days, and you provide all pages of the statement. (yes, even the blank ones)
If you are listing retirement account funds on your application, we'll need a copy of your most recent quarterly account statement.
Are you Self-Employed?
If you are self-employed, or a portion of your household income is from self-employment, additional documents will be requested
Two years of business tax returns, with all schedules (if applicable)
Most recent three months of business bank account statements dated
Year-to-date Profit and Loss statement
Do you receive Rental Income?
Lenders are required to verify the total monthly payment amounts for each rental property, including the amount owed for financing, property taxes, insurance, or HOA dues.
Most recent mortgage statement for each financed property
Copy of your property tax bill and hazard insurance declarations page for each property owned
1. Don't apply for credit (such as a new credit card, car loan, or financing for furniture or appliances)
2. Don't make major purchases
3. Don't liquidate funds
4. Don't make large deposits
5. Don't switch jobs
All of these factors could impact your final closing, even if you've already been approved!