Fraud Protection
Security Center
Contact Us
Be aware of phone calls and fraudulent texts like these examples below that appear to be from Stockman Bank. These are scams!
If you receive a phone call asking for your Stockman Bank login credentials or personal financial information, HANG UP! We will never call you and ask you for this information.
If you receive one of these texts, DO NOT click the link. These texts are not sent by Stockman Bank.

If you accidentally gave out your personal information over the phone or clicked on one of these links, please call us immediately at 877-300-9369.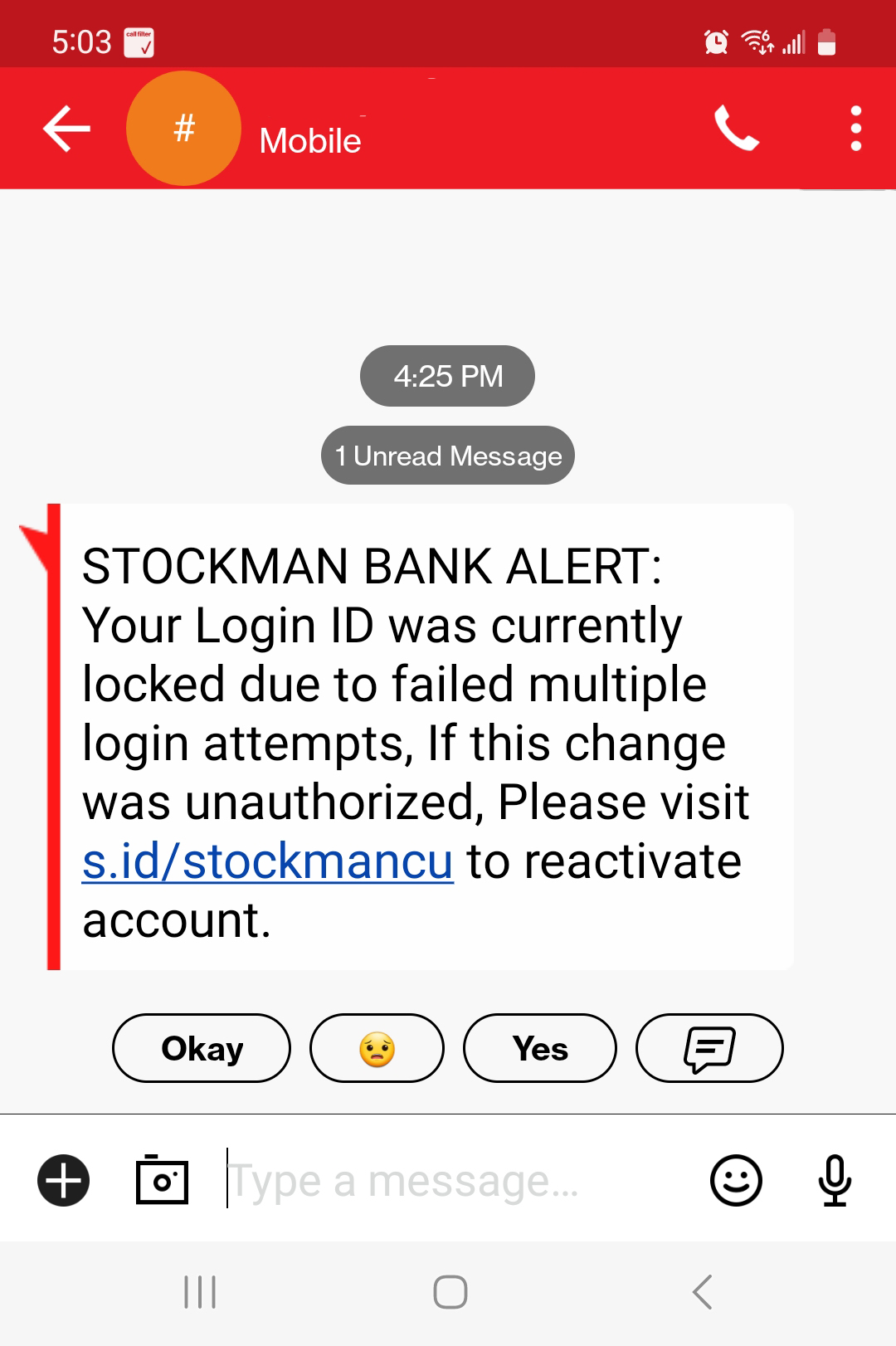 ---
IF YOU SUSPECT FRAUD:
Call your bank and credit card issuers immediately so they can close your accounts.
Contact the fraud unit of the three credit reporting agencies. Place a fraud alert on your credit report and consider placing a credit freeze so the criminal can't open new accounts. The fraud unit numbers are:

Equifax: (866) 349-5191
Experian: (888) 397-3742
TransUnion: (800) 680-7289

Report the fraud to the Federal Trade Commission at 1-877-IDTHEFT (1-877-438-4338)
File a police report.
Make sure to maintain a log of all the contacts you make with authorities regarding the matter. Write down names, titles and phone numbers in case you need to re-contact them or refer to them in future correspondence.
To learn more about fraud and identity theft prevention, visit the Federal Trade Commission's scam alerts page at https://www.consumer.ftc.gov/features/scam-alerts.
How You Can Protect Yourself