Remote Deposit
Remote Check Deposit (eDirect)
Deposit checks electronically right from your business. It's like having a bank teller in your office!
Save time processing deposits. Just scan and go!

No deposit slip required
No endorsement required

Improved funds availability
Reduce the risk of check fraud with faster check clearing
Eliminate courier fees and trips to the bank
A check scanner is provided to eBiz customers for remote check deposit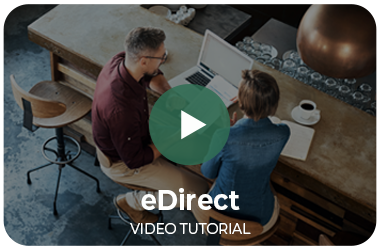 Remote Deposit Capture allows you to deposit checks electronically right from your business. Stockman Bank provides the scanner and software. Checks are scanned and sent electronically.
Save time spent processing deposits.

No deposit slip required.
No endorsement required.

Improved funds availability.
Reduce the risk of check fraud with faster check clearing.
Eliminates trips to the bank and deposits can be made when it is convenient for you.
Remote deposit daily cut off time is 6:00pm, Monday through Friday, excluding bank holidays. Remote Deposits made before 6:00pm should be seen in your account that day, and will be available the next business day.
Yes! Information from services in your eBiz can be downloaded to your computer and then imported into your software application.
You must keep the checks in a secure location for 30 days. After 30 days the checks must be destroyed.
Look for items that scanned but the amount does not match what the check was written for.
Individual handwriting on checks will very commonly be the cause of this problem. When you click "review" to review your deposit, items that had an amount read error can be resolved by clicking on the item image. A pop up screen then provides you the option of correcting the amount for that particular check.
Another reason the deposit may be out of balance is that the deposit total entered was incorrect.
If the deposit is no longer pending, you will need to switch the radio button from Pending Deposits to All Deposits.
If the deposit was made on a previous business day, you will need to change the search parameters. There is an arrow at the right end of the search bar. The drop down will allow you to change dates ranges.
An email confirmation of the deposit error will be required.
Cash Management Support
Monday - Friday 7:30 AM - 5:30 PM excluding bank holidays
Phone: 1(855) 818-4517
Email: ebiz@stockmanbank.coebiz@stockmanbank.com
Try cleaning the machine rollers using the instructions provided in the machine's user manual.
Try to make the batches of checks being run through the machine smaller.
Running too many checks in a single batch can make it difficult for the machine's spring to apply enough pressure to the batch to separate the individual checks as they go through the machine.