Nine Ways to Prepare Your Home for Winter!
Post written by Michael Mitchell, Real Estate Loan Officer, Billings
Autumn in Montana can be a mix of summer and winter, depending on the day! Now is the time to prepare your home before winter settles in for good. Our real estate professionals in Helena have compiled a list of tips for fall home maintenance.
1. Have Your Roof Inspected
The standard rule of thumb in the roofing industry is that you should have your roof inspected twice each year, once in the spring and once in the fall, before entering each extreme season.
Roof inspections identify any problems before they occur, as well as gauge the remaining life of your roof. Fixing a roof can be the most expensive house repair an owner may face, so maintaining roof inspections twice a year is well worth the investment.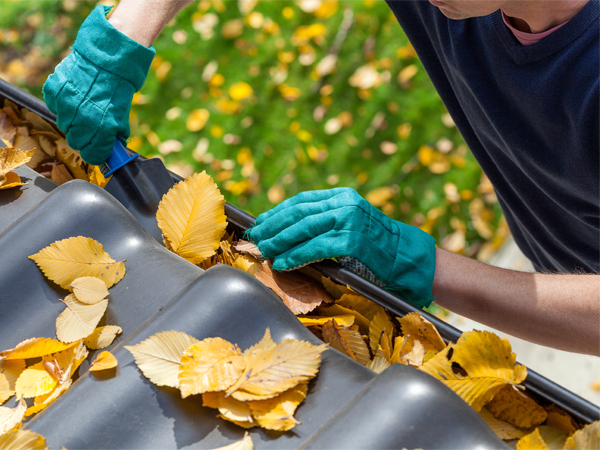 2. Clean the Gutters
Built-up leaves and debris in your gutter can cause water to back up in your gutters and downspouts, which will channel water down the side of your home where it can cause damage to the foundation of your home and potentially flood your basement. If you own a one-story home, you can probably clean your gutters by hand using a ladder, but be sure to wear gloves!
3. Fertilize Your Lawn

Fertilizing you lawn in autumn will trigger renewed growth in the grass roots making your lawn thick and healthy which builds stamina in the grass before a cold winter.
Apply lawn fertilizer 2 to 3 weeks before the ground freezes.
Keep an eye on the weather forecast for the first frost date in your area. The first frost date is typically a good time to fertilize since the ground hasn't frozen yet.
Start with a clean slate by mowing your lawn right before you fertilize.
Never fertilize you lawn before a heavy rain to avoid runoff. Check the weather forecast before you fertilize.
4. Drain and Store your Lawn Equipment
Unused fuel goes through chemical changes that create deposits and can destroy your lawn equipment. Be sure to drain the tanks before storing them away for the year or run the engine until your equipment is out of gas.
5. Turn Off and Drain Outdoor Faucets & Sprinklers
Winterizing your outside faucets is important because it prevents them from freezing which can lead to a burst pipe. Here are a few tips to help you winterize:
Disconnect the garden hose from the outside faucet.
Determine if your faucet is frost-free or not.
Winterize your sprinkler system.
6. Protect Your Home against Unwanted Invaders
Mice, squirrels, bunnies and other critters will be looking to escape the colder weather as it sets in. Inspect your home and garage for any holes or openings, and take the following actions to protect your home from unwanted visitors.
Look at your windows and doors. Seal your windows and make sure your screens fit well so bugs can't get inside. Check for gaps in your doors. Use weather stripping or a door seal kit around the frame to keep bugs out and help prevent the heat inside from escaping your home.
Update your soffits. Walk around the exterior of your home and look for rotted fascia boards and cracked or missing soffit panels. If not well maintained, these could provide easy access for bugs and critters.
Use Flashing to Stay Dry. Those valleys on your roof and the connections alongside your chimney are common places for water penetration. If water penetrates the wood framing, you're inviting termites into your home for dinner.
Install siding to block exterior crawl spaces. Bunnies are cute – until one eats your electrical wires or chews a hole in your plumbing. These cute little animals can easily gain access where vinyl siding isn't installed all the way to the ground. Replace any siding that has cracks, holes, or chips to prevent water leaking in and causing damage as well.
7. Inspect the Inside of Your Home
Check to make sure your smoke detectors and carbon monoxide detectors are working properly.

8. Clean Your Chimney and Fireplace
Chimneys may contain buildups and obstructions that impair its ability to properly filter smoke out of your home.
Professional chimney sweeps use equipment that has been designed to effectively remove creosote from the chimney liner and smoke chamber. A chimney sweep can also inspect your fireplace and chimney for any signs of damage that may need to be repaired.
9. Get Your HVAC serviced
When you're done using AC for the year, be sure to have the coils cleaned. Cover your AC unit to keep leaves, debris and ice from damaging your system. Before you switch to using heat, check if your filter needs to be changed first, and make sure all vents are uncovered.
Clean your dryer vents in the fall. Cooler, drier weather means there will be more static electricity and a bunch of lint in your dryer vents creates a risk for fire.
You should also look at having your air ducts cleaned too! A periodic air duct cleaning promotes healthier living and reduces the dust, allergens and irritants that build up over time in your air ducts.
Once you have checked all these items off this list, settle in for a comfortable, cozy winter ahead.